I remember my thirteenth Birthday, in May 1995, for one distinct reason: My older brother bought me my first issue of
Slam
magazine as a present. It was issue number 5. Timmy Hardaway and Latrell Sprewell, two fresh-faced Warriors, graced the cover.
Two fly
.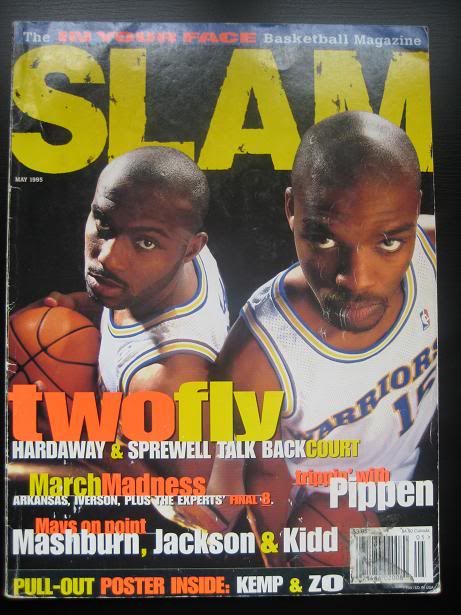 At this point, it's important to give a bit of background information. In the mid-1990s, basketball was beginning to grow in popularity in the UK (a topic I'll talk more about in the future). However, despite this, the newsagents only stocked a limited number of basketball magazines. One such magazine (actually, more of a newspaper) was called
Slam Dunk
and was produced locally. In the days before the internet, it was a great source of box scores and other NBA news, since it was published every Friday - a great end to the week at school. Plus it was dirt cheap. The other options for basketball enthusiasts were
Fiba Basketball
and
XXL
. The former was always a little outdated and concentrated too much on the European game for my liking (it was about as cool as Detlef Schrempf) while the latter was a UK publication which, well, sucked*.
Then along came
Slam
. As the magazine's tagline told us, it was the '
In Your Face Basketball Magazine'
. It resonated with a whole generation of young 'ballers not just in the States but across the world and, in the years since, has become the best basketball magazine by some margin. Of course, owing to my OCD-like tendencies and addiction to all things basketball, I have since gone on to collect
every single issue
of
Slam
. Indeed, some of those early issues are worth a small fortune (as I recently found out when I sold a few old duplicate issues on eBay).
Anyway, enough background information. I would like to present the ten most iconic
Slam
magazine covers of all-time, in descending order, chosen by yours truly.
10th Place - Issue 2 - Shawn Kemp
Analysis
: Before the babies - and before the burgers - Shawn Kemp was the
1990s version of Blake Griffin
. What's not to like about a cover featuring pink and yellow text and too many exclamation marks?
9th Place - Issue 8 - Penny Hardaway
Analysis: The NBA was searching for the new Jordan - even though the old one was back in business - and Penny Hardaway fitted the bill. One of the few players capable of holding his own against the great one.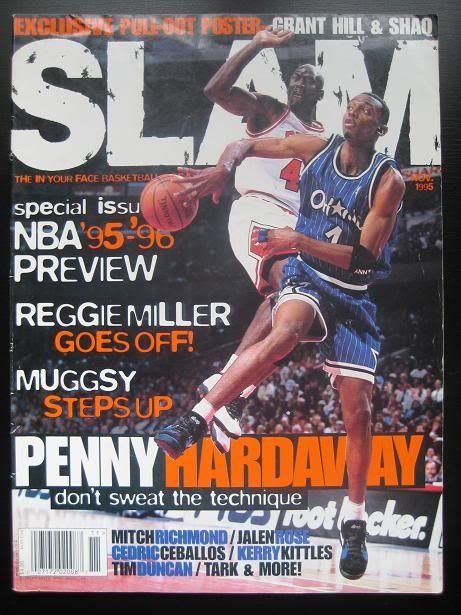 8th Place - Issue 109 - Dirk Nowitzki
Analysis: A golden era for Slam covers as the design team experimented with some unique ideas. This Sin City-inspired cover succeeded in making even Dirk Nowitzki look cool.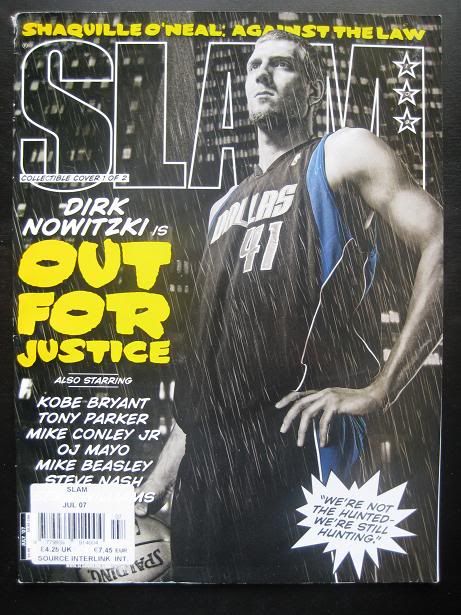 7th Place - Issue 106 - LeBron James
Analysis: The NBA needed a new logo, according to Slam. Something more modern. Something more... in your face. LeBron stepped up and delivered this epic pose. Jerry who?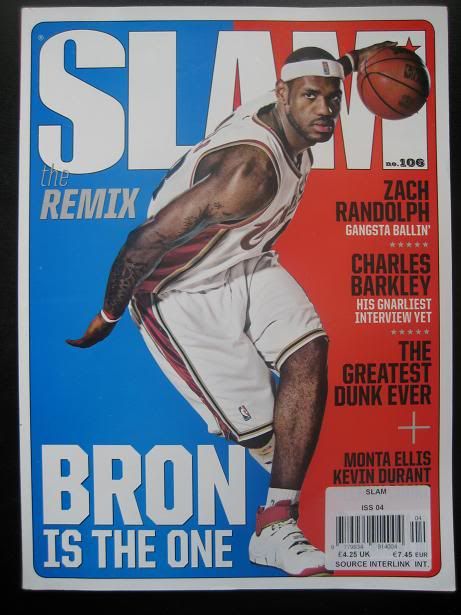 6th Place - Issue 114 - Kobe Bryant
Analysis: Perhaps the most appropriate headline in Slam history: 'Kobe against the world'. At this point, Kobe had gone from fan favourite to arguably America's most hated athlete. It didn't matter. The cover was a classic.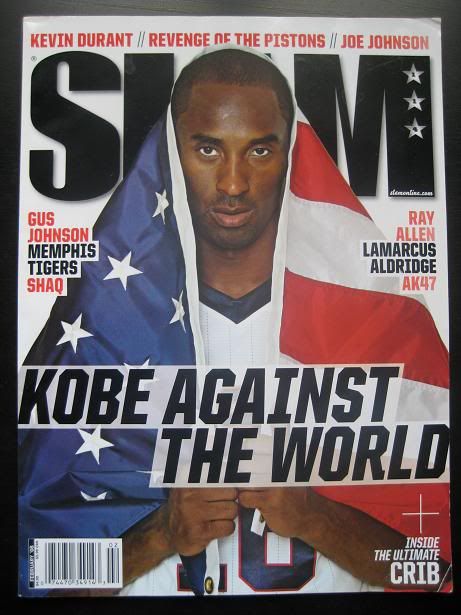 5th Place - Issue 50 - Michael Jordan
Analysis: Who better to put on the cover of the much-talked-about 50th issue? The greatest of all-time. Three different covers, each capturing His Airness mid-flight.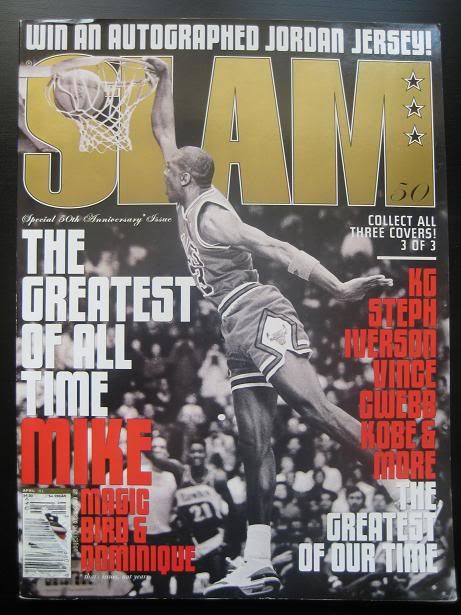 4th Place - Issue 21 - Stephon Marbury & Kevin Garnett
Analysis: Showbiz and KG. Starbury and Da Kid. What could have been. It was fun while it lasted.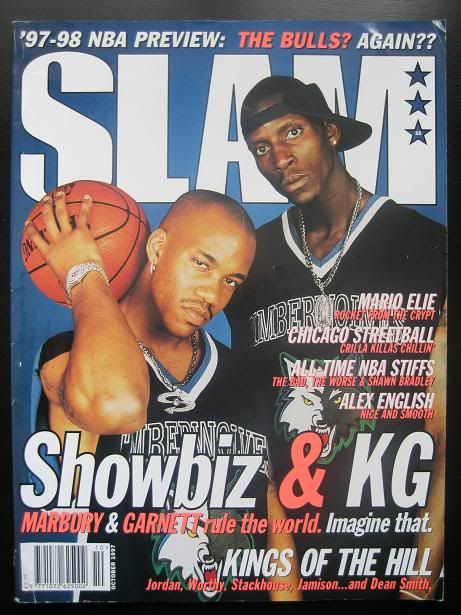 3rd Place - Issue 62 - LeBron James & Sebastian Telfair
Analysis: Slam should be commended for occasionally putting players on their cover based on potential rather than credentials. One of these players failed to live up to the hype. The other turned out okay.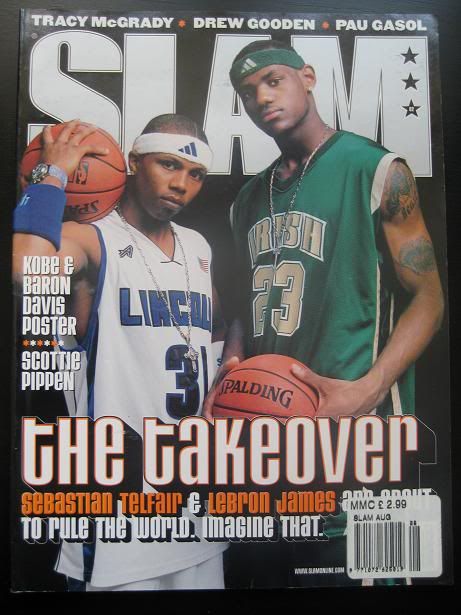 2nd Place - Issue 1 - Larry Johnson
Analysis: It's tempting to put this first - after all, it was the premier issue - but, alas, second place will have to do. He may have worn Converse trainers and dressed like your Gran, but LJ was cool once upon a time.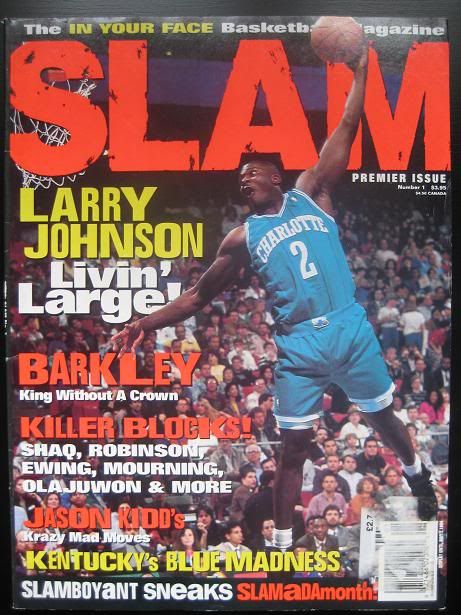 1st Place - Issue 32 - Allen Iverson
Analysis: This throwback cover - a tribute to Dr J's era - was so iconic that Slam recently replicated it for their 150th issue, but there's no beating the original.
*Thankfully, approximately a decade after
XXL
ceased to exist, along came
FadeAway
magazine, saving the face of UK basketball publications. I was so impressed when I saw the first issue of
FadeAway
(glossy, artistic and insightful as it was) that I contacted the editor, Greg Tanner, and got a gig writing content for a handful of issues. The magazine has since evolved into
MVP
magazine and is
worth checking out
.